Maritime Display Planned in OKC Park Along Oklahoma River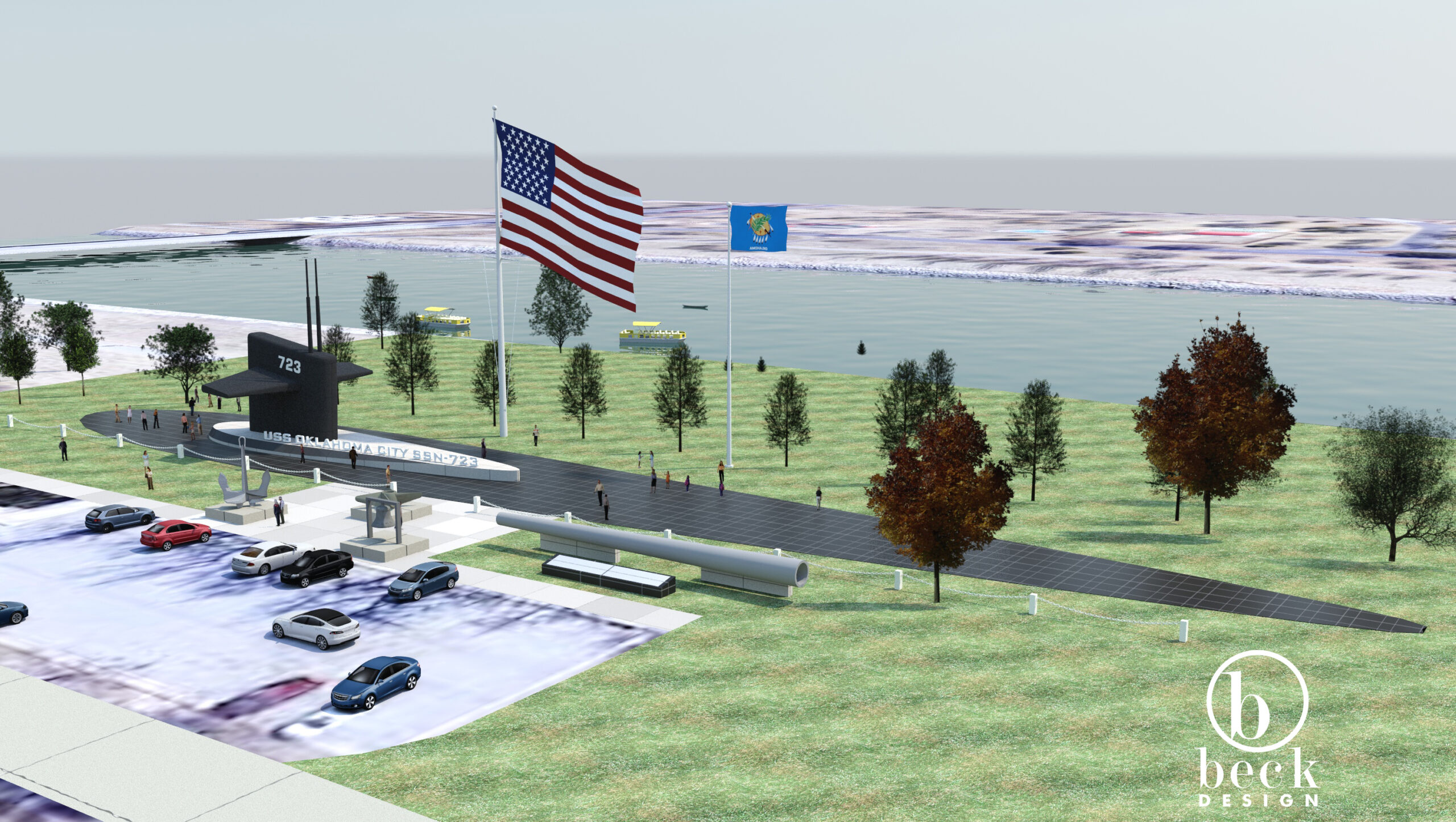 By: Kathryn McNutt//The Journal Record//April 11, 2023
OKLAHOMA CITY – The crew members who served for more than 80 years aboard two U.S. Navy vessels named USS Oklahoma City will be honored at a maritime display to be located along the Oklahoma River on the north shore of Wiley Post Park, 1700 S. Robinson Ave.
The Oklahoma City Council on Tuesday approved a memorandum of understanding for the project with the Oklahoma City Riverfront Redevelopment Authority and the USS Oklahoma City Park Association.
"It's a fantastic day," said retired Rear Adm. Greg Slavonic, who worked with retired Navy Cmdr. Tucker McHugh for five years to secure a location for the display. "We're finally across the finish line. It's an ideal site."
Private funding for the project will be raised by the USS Oklahoma City Park Association. Slovanic said roughly $600,000 to $700,000 in grants and donations will be needed.
The site selection committee looked at many locations over time. Former Mayor Ron Norick – who was present when the USS Oklahoma City submarine was commissioned in 1988 – served on the committee and felt it needed to be by the water, Slavonic said.
Architect Don Beck has drawn renderings that show how the sail from the submarine will be displayed along an area that is the width and length of the vessel to give visitors a sense of the entire nuclear-powered attack sub.
The sail with its dive planes is the only part that can be acquired and displayed due to security concerns, Slavonic said.
"Also on this display will be pieces of the other Oklahoma City vessel. We'll have hopefully the anchor, bell, other components from that ship," Parks and Recreation Director Melinda McMillan-Miller said.
The USS Oklahoma City cruiser, which served the Navy from 1944 to 1979, was converted to a guided missile cruiser in 1957 and was the first U.S. warship to conduct a successful combat surface-to-surface missile shot, destroying an NVN mobile radar station in 1972.
Narrative panels are planned to tell visitors about each ship's rich history.
The next step for the city is to petition the Department of Defense to request a long-term loan agreement for the items to be displayed, McMillan-Miller said. "Hopefully in two to three years we'll be able to have all those components in place and we'll be able to do a big grand opening of the new park," she said.
McMillan-Miller noted Wiley Post Park is at the southern tip of Lower Scissortail Park, so locating the naval display there "will make a really great progression for pedestrians and people to enjoy our river parks up and down the entire river corridor. It will be a great enhancement and really harkened to the history of our wonderful military personnel and veterans who always make Oklahoma City shine."
Slavonic, interim director of the Oklahoma Department of Veterans Affairs, said a lot of Navy veterans live in Oklahoma City.
After more than 34 years of service – including anti-submarine and anti-ship warfare missions and sensitive intelligence, surveillance and reconnaissance missions across the globe – the USS Oklahoma City submarine was formally decommissioned last year during a ceremony at the Puget Sound Naval Shipyard in Bremerton, Washington.
The U.S. Navy honored City Council Chief of Staff Debi Martin during the ceremony with its Meritorious Service Award, the highest honor a civilian can receive from the National Office of the U.S. Navy League. Martin served as the submarine's primary Oklahoma City liaison for 28 years, planning tours to Oklahoma City for sailors and officers and coordinating visits to the sub for city officials.
City Councilman Mark Stonecipher, who also attended the decommissioning, said he learned while there the submarine's mess hall was named after Cattlemen's Steakhouse. Many retired officers who served on the USS Oklahoma City come through Oklahoma City and "they always stop at Cattlemen's to have lunch or dinner," he said.
A nonprofit has been established to accept tax-deductible donations to fund the project. For more information or to contribute, email jmchugh5@cox.net.