Broken Arrow Plans for Innovation District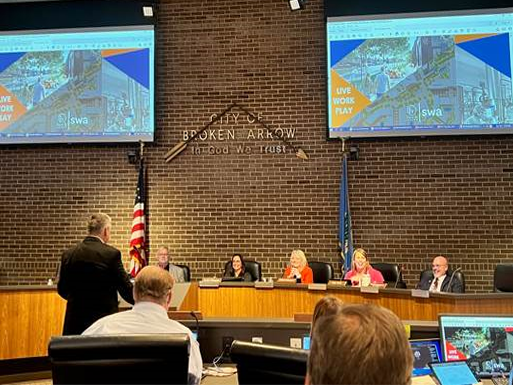 Innovation District update | City News | City of Broken Arrow (brokenarrowok.gov)
Beck Design has been selected by the Broken Arrow Economic Development Corporation to create a master plan for the 90-acre Innovation District.
The Innovation District is in the TIF No. 3 boundary south of Florence Street between Olive Street and Aspen Avenue. The project includes developing a schematic layout of physical space with conceptual designs, including story, platforms, and brand experience for the Innovation District.
Beck Designs is a 42-year-old architectural firm with offices in Tulsa, Oklahoma City, and New York City. Don Beck, the principal architect of Beck Design, made a presentation to the Broken Arrow Economic Development Authority at its meeting on May 2.
His presentation included several design projects similar to the Innovation District that his team has completed in Oklahoma City, Edmond, McPherson, Kan., San Antonio, and Houston.
"Our firm has also designed several projects in Broken Arrow," Beck said. "My most memorable one is the Broken Arrow Performing Arts Center."
He says his team is thrilled to be selected for the project.
"It's exciting, and it's what we do; it's a great piece of property…We are thrilled about your opportunity," Beck said.
Ted Cundiff, Innovation District Committee Chair, also presented a progress update to the BAEDA.
"We're in our sixth year, this project is something that I believe is going to transform Broken Arrow, and it's focused on the workforce," Cundiff said.
Cundiff, the President and CEO of AVB Bank, says he is often asked what an Innovation District will be. He says it will not be an industrial park but defines the project as workforce development.
"We're creating an environment to bring Broken Arrow's K-12, Tulsa Tech, and higher education together with private business, so we're creating internships, research, collaboration for our students and supporting our industries with a constant flow of workforce," Cundiff said. "This gives our students, children, and grandchildren work and a way to stay here in Broken Arrow."
Cundiff says he's appreciative that the citizens of Broken Arrow realized this need and passed a bond issue to support the infrastructure for the Innovation District.
The master plan for the 90-acre Innovation District will take all the information that the committee has gathered over the last six years and couple that with the expertise provided by Beck Design.
The master plan will consider streets, zoning, plating, access, utilities, office space, mixed-use, common area, traffic flows, connectivity, walkability, and more. This plan will also include information on the Innovation District's absorption rate, outlining the amount of retail, housing, and businesses the district can support.
Beck will deliver a final master plan concept this summer.