Opening Weekend – McKnight Center for the Perfoming Arts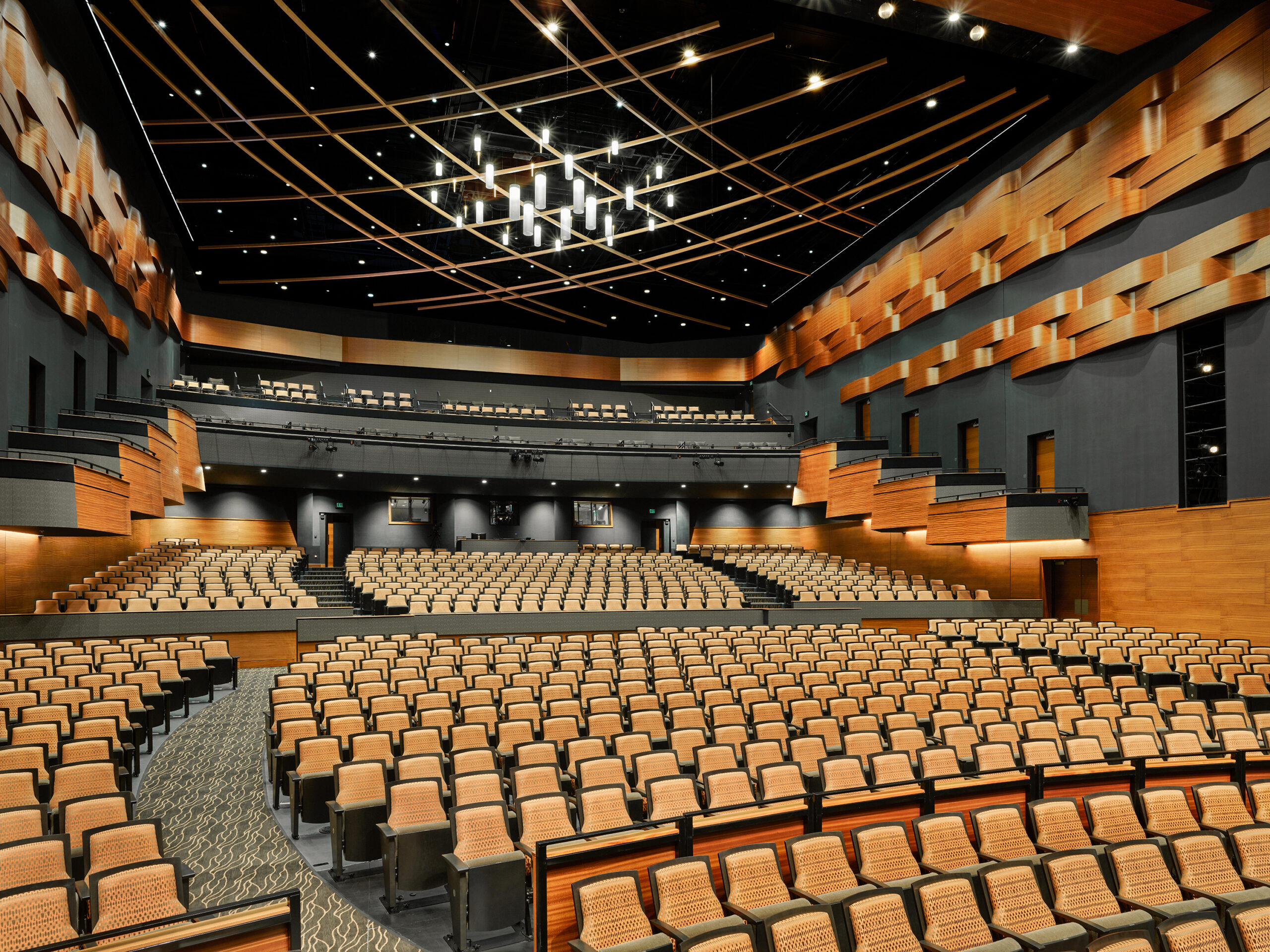 Grand opening: OSU launches inaugural season for McKnight Center for the Performing Arts, including Kelli O'Hara and Sarah Coburn
Reuniting with the New York Philharmonic, Oklahoma native Kelli O'Hara earned strong reviews for her September performance of Samuel Barber's "Knoxville: Summer of 1915" at New York's Lincoln Center, with the New York Times praising it as "tender, subtly expressive and glowing," with the James Agee's nostalgic text "rendered by Ms. O'Hara with disarming directness and clarity."
Oklahomans will have the chance to judge for themselves when O'Hara and the New York Philharmonic reprise the performance Friday at the black-tie Opening Gala for Oklahoma State University's McKnight Center for the Performing Arts.
"What we will do Friday night in Stillwater is what we've just been doing for four nights here in New York City," O'Hara said in a phone interview. "It's a very nostalgic piece about summertime with your family in the South. Even we're obviously not in Knoxville, Tennessee, there in Oklahoma, there's something about the lying on the ground on quilts and you're hearing your parents and your aunts and uncles talking. ... There are those memories — those really soft, warm memories — for me."
Making its first visit to Oklahoma in more than 30 years, the New York Philharmonic will perform three concerts — two featuring O'Hara — Friday-Oct. 13 to celebrate the opening of the McKnight Center, a world-class epicenter for the arts at OSU.
Named for OSU alumni Ross and Billie McKnight, the center features a 1,098-seat performance space, an intimate 217-seat recital hall and an outdoor plaza with a 32-foot LED wall screen. The McKnights donated $25 million to create a program endowment for the center in 2016, the same year ground was broken on the 65,000-square foot building.
"It's a state-of-the-art facility, and it has all the technology that you could want," OSU President Burns Hargis told The Oklahoman. "We were able to, thanks to Ross McKnight, raise a $50 million endowment for programming."
Diverse lineup
The center's inaugural performing arts season includes touring productions of the musicals "An American in Paris" and "The Buddy Holly Story"; a Halloween presentation of the silent film "Phantom of the Opera" with live organ; and concerts by the Preservation Jazz Hall Band, the Beatles tribute 1964 and internationally renowned opera singer and 1999 OSU graduate Sarah Coburn.
"What a gift. ... To think that the New York Philharmonic is going to be there in partnership, I can't imagine what that would have been like as a music major. I was already drawn to OSU, but what a draw for a music student to know that they could have that kind of collaboration," said Coburn, who will perform April 4 at the McKnight Center.
Along with showcasing touring artists from around the globe, OSU's music school will use the venue for classes and performances.
"That should make people line up to get into the music program at OSU," said Coburn. "These opportunities are so enriching, and the building itself, to have that kind of space for performing, it's really inspiring. I think it will just encourage that much higher level of musicianship and scholarship."
Along with O'Hara and the New York Philharmonic, performers booked for multi-date engagements include famed violinist Joshua Bell and the London-based chamber orchestra Academy of St. Martin in the Fields, celebrated pianist Andre Watts and acclaimed pianist Jonathan Biss, whose seven-concert series showcasing all of Beethoven's piano sonatas is already sold out.
"It's our inaugural season ... and we wanted it to be something really special and unique, but also something that's going to be representative of the world-class art that we're going to keep bringing to the center for decades to come," said Jessica Novak, the McKnight Center's director of marketing.
Big impact
The McKnight Center is expected to be a regional arts hub, Hargis said.
"For some things, we'll be able to attract people from Oklahoma City and Tulsa," Hargis said. "It will elevate, I think, not just OSU but Stillwater and even the whole region."
The economic and educational impact of the center should be wide-reaching, Novak said.
"The center is estimated to have an economic impact of about $11 million for the city of Stillwater," she said. "Of course, that's people coming in and eating at restaurants, staying in hotel rooms, shopping in town, everything you do when you plan one of these exciting trips to our shows."
Beyond the three opening weekend concerts, she said the New York Philharmonic is spending the better part of a week in residency in Stillwater. The musicians will offer multiple master classes for OSU students, then cap their Oklahoma visit Oct. 14 when they perform for free for first- and second-graders from Stillwater Public Schools.
"Coming to Oklahoma State University ... they want to bring the great classical works and introduce them to those who haven't been classical music fans in the past," O'Hara said. "I think it's a statewide real enhancement, honestly, with the kind of artists they're going to have there. What they're doing now at OSU, I think it's pretty monumental."
GOING ON
McKnight Center opening weekend
Tickets and information: mcknightcenter.org.
Where: McKnight Center for the Performing Arts at Oklahoma State University, 705 W. University Ave, Stillwater.
•Opening Gala with New York Philharmonic and Kelli O'Hara: 6 p.m. Friday.
•New York Philharmonic: A Fantastique Introduction: 7:30 p.m. Saturday (sold out).
•New York Philharmonic with Kelli O'Hara: 2 p.m. Oct. 13 (sold out).